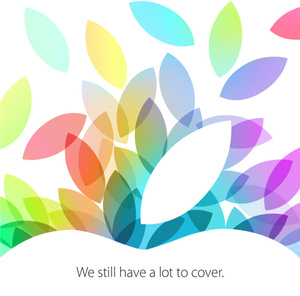 Apple
has confirmed they will be holding an iPad press event on October 22nd, two weeks after the date was leaked by multiple online sources.
The company is expected to have a busy day planned, unveiling the Retina iPad Mini, the fifth-gen iPad, new Macbook Pros, and the release date and price of the powerful desktop Mac Pro.
In the invitation, Apple has
left the tagline
"We still have a lot to cover," giving credence to the fact they are expected to have lots of the aforementioned announcements.
The iPad Mini with Retina will likely be the biggest announcement, as the tablet is also expected to include the new Touch ID fingerprint scanner. The iPad Mini, a thinner, lighter 7.9-inch version of its flagship tablet, has become a huge hit since its launch last October.
As with most Apple launches, the tablets will likely go on sale on October 30th, a week after their unveil.