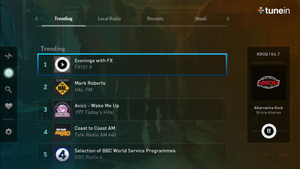 TuneIn has released an app for the PS3 console, and will release an app for the PS Vita handheld next week.
TuneIn
offers more than 70,000 AM, FM, and internet radio stations, and over 2 million podcasts from around the world.
Features of the TuneIn app include:
World's Radio: With over 70,000 stations and 2 million podcasts from around the world, TuneIn is a leading service for listening to music, sports, and news.
Live Music: Live Music on TuneIn lets listeners discover and enjoy unplugged, acoustic, and even local performances from their favorite artists -- plus, TuneIn has partnered with the New Orleans Jazz & Heritage Festival, Austin's SXSW, San Francisco's Outside Lands, and Seattle's Bumbershoot to make live music festivals available to music fans everywhere.
Sports: TuneIn offers listeners the ability to catch a wide variety of live sports, including college football, cricket, lacrosse, and baseball.
Talk: Listen to the world's best comedians and personalities on TuneIn, like NPR's "Fresh Air," "This American Life," or the Adam Carolla Show.
You can find TuneIn Radio in the "What's New" and "TV/Video Services" sections on the PS3 system XMB, as well as in the "Apps" section of PlayStation Store. The PS Vita version can be found in the Apps subsection in the PS Vita store when it's available next week.