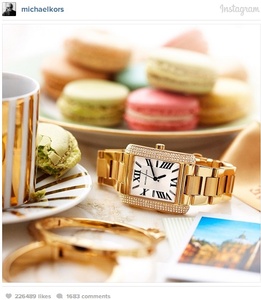 As of Friday, popular photo and video-sharing site Instagram is no longer ad-free.
The first official ad (sponsored photo)
is from Michael Kors brand
, and the picture of a watch saw over 250,000 likes in its first day.
Facebook (owners of Instagram) had an extended preview period allowing the 150 million users of the service to acclimate to seeing occasional ads in their feeds.
All future ads will include the label "sponsored" so users can differentiate and users can hide the ads if they don't care for the content. Eventually that will lead to better product targeting.
Facebook purchased Instagram for $1 billion last year, and the company has been careful in their efforts to begin monetizing the service.