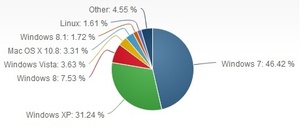 According to new figures from
NetMarketshare
,
Microsoft
saw their new Windows 8.1 operating system take 1.72 percent global market share, following its first few weeks of general availability.
Overall, Windows 8 and Windows 8.1 took 9.25 percent share, a tiny 0.36 percentage point gain from the month before. Windows 8 itself fell 0.49 percentage points month-over-month, due to upgrades. Windows 8, as a standalone, likely peaked in September.
Windows 7 remained the champ, at 46.42 percent, although the OS was flat month-over-month.
Moving to Mac, OS X 10.9 was released late in the month, as well, and jumped to 0.84 percent share.
Windows Vista and Windows XP also remained relatively flat, but within major downtrends.