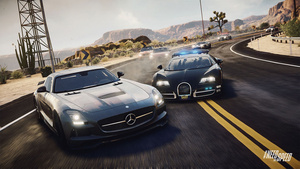 The November 15 launch of the PlayStation 4 (PS4) console in the United States has another confirmed launch title: Need for Speed Rivals.
Shiny new gaming consoles are a beautiful thing, and it's always exciting when a major launch date is on the horizon. It's hard to believe that the PlayStation 4 (PS4) launch is not even two weeks away now, but when we unbox our consoles we will want to get a feel of what they can do. Launch titles are extremely important in that way, and the more the merrier.

Sony, Ghost Games & Electronics Arts have announced that Need for Speed Rivals will be a PS4 launch title this month, dropping on November 15 in the North American market. Rumors had suggested recently that the game was being pushed back to a later date, so this is welcome news.

The game is scheduled to be released for PS3, Xbox 360 and PC on November 19, and will of course launch for the Xbox One on November 22 alongside the new Microsoft console.