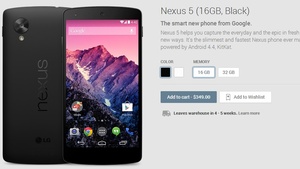 The unlocked Google Nexus 5 appears to continue to show strong demand (or dwindling supply).
Google's recently unveiled flagship sold out of initial supply through the Google Play Store within hours and moved to expected 1 week shipping and then 2 week shipping before the launch day was completed.
As of writing, the smartphone is now on 3 to 5 week backorder, depending on which variant you want. The 16GB models, in black and in black/white, are on "4-5 week" backorder, the black 32GB model is on 3-4 week backorder and the white 32GB model (clearly the least popular), is on 2-3 week backorder.
The flagship has a
Full HD
IPS 4.95" 1920x1080 display (445 ppi) protected by Gorilla Glass 3, runs on the brand new
Android 4.4 KitKat
and is powered by a Qualcomm Snapdragon 800 at 2.3GHz, 2GB
RAM
, and an Adreno 330
GPU
. The phone weighs just 4.59 oz, has a premium glass design, a 1.3MP front facing camera, an 8MP rear facing camera with Optical Image Stabilization, a 2,300 mAH battery and wireless charging capabilities.
In addition, the LTE-capable device also has dual-band Wi-Fi (2.4G/5G)
802.11
a/b/g/n/ac,
NFC
(
Android
Beam), Bluetooth 4.0 LE, and a micro USB port with SlimPort enabled for full connectivity options. Google has priced the unlocked device at $349 for the 16GB model while the 32GB costs $399.