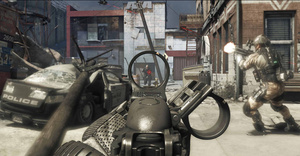 Call of Duty: Ghosts has been released but the developer behind the latest title in the franchise is prepared for slower sales due to the transition to next gen.
It took only 15 days for the previous CoD title, Black Ops II, to reach $1 billion in sales. Until the release of Grand Theft Auto V in October 2012, Black Ops II claimed the largest entertainment launch of all time.
With
Call of Duty: Ghosts
being released for PC, PlayStation 3 (PS3), Xbox 360 and Wii U today, sales will undoubtedly be very high, but Infinity Ward is expecting slower initial sales due to the release of Xbox One and PS4 later this month - both of which claim Ghosts as a launch title.
"Next-gen has historically created a bit of a challenge for all games from a numbers standpoint,"
Infinity Ward Executive Producer
Mark Rubin
told the
BBC News
website.
"It's definitely something we're aware of. I know talking to a lot of people, figuring out what they're going to buy is a problem. I think it will be spread out a little bit - it's harder to do the day-one [sales]... but I think we're in a good spot."
Reviews for Ghosts have been mixed so far, but unlikely to hurt its commercial success.