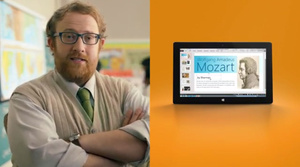 Microsoft has a new ad for its Surface tablet that claims the device is for 'real work'.
If you recall, Microsoft promoted the
Lenovo Yoga
with Windows 8 over the iPad in an education setting with an ad that showed a class full of students struggling to type out promptly spoken words from the professor on an iPad, with the predictable exception being the one smiling student with the Windows 8 device using a real keyboard.
Now, without specifically mentioning the iPad, Microsoft has revisited education with a new ad showing a teacher promoting the Surface tablet as being for
"real work."
"All my students have the brand new Surface, it has the new Windows, it comes with Office, has a real keyboard so they can do real work,"
he informs us.
"The battery lasts and lasts so after school, they can Skype, play games, or my favorite - do homework. Change is looking pretty good afterall."
As fascinated as Microsoft is with its own products, it has its work cut out for it as the iPad is clearly the more embraced device so far in an education setting. Just last week,
Tim Cook
said that Apple now
owns 94 percent
of the education market.
Here's the new Surface ad below.. and as a reminder I've also added the Lenovo Yoga ad from August.
The New Surface: Teacher
Lenovo Yoga vs. iPad: College