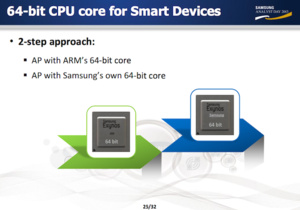 Samsung
completed their annual analyst day in South Korea today, and there was certainly some interesting news to be had.
The company confirmed that it is now working on its own application processor. Rather than licensing from
ARM
and then moving those cores into their own chips, the Exynos line, the company will now design their own. Qualcomm, with its
Krait
cores (Snapdragon chips) and
Apple
do the same.
In addition, Samsung seems to be really stepping up their display features. In 2014, the company will have AMOLED panels with a massive 560 ppi. By 2015, the displays will have 3840 x 2160 UltraHD resolutions.
Samsung made it clear
that they are trying to innovate in the areas of display, memory and processing, as the high-end smartphone market has likely peaked for the time being.
Moving to flexible displays, the company says it has over 9000 patents in the segment, good for 33 percent of all flexible related patents. There will likely be some wars in the future.