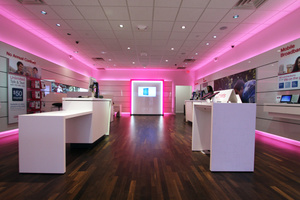 T-Mobile, which recently moved away from contracts and began innovating in the industry that has been stagnant for years, has added over 1 million new customers in the last quarter, beating out larger rivals Verizon, AT&T and Sprint.
The carrier ended the period with 45 million customers, as growth has been accelerating. "Our momentum is great and we have confidence that we can continue to deliver sustainable and profitable growth," CEO John Legere said in a
statement
.
Revenue jumped 37 percent to $6.69 billion, above estimates. The turnaround is thanks to T-Mobile's "Uncarrier" initiative, which included a move to no contracts, free international roaming, unlimited data (with some throttling after certain points), cheaper service and an industry-first early upgrade program for new devices.
In the same quarter, Sprint lost 313,000 customers, AT&T admitted all of its feature phone customers were jumping ship and Verizon's growth slowed.
T-Mobile says now it expects to see 1.8 million new customers for the year, up from their original projection of 1.2 million.