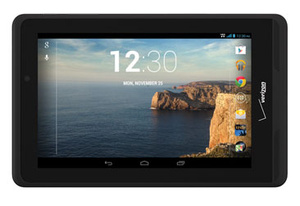 Verizon has launched its own branded tablet, following a few weeks of leaks and speculation.
The Ellipsis 7 is based on
Android
and has low-end specs compared to newer devices.
Ellipsis 7 tablets have a 1280 x 800, 7-inch IPS display, 8GB of storage, 1GB of
RAM
, and a 1.2GHz quad-core processor. Additionally, the device has
LTE
connectivity and a front-side camera and runs on a near-stock Android 4.2.
The device goes on sale tomorrow, November 7th for $249.99 off-contract, which is pricier than the Nexus 7, which boasts much nicer specs.
One notable feature, is the addition of Verizon Messages. The carrier
says
the service allows "users to send and receive text messages from their tablet. And with the most recent app update, users can send customized photos with collages for a more personal messaging experience."