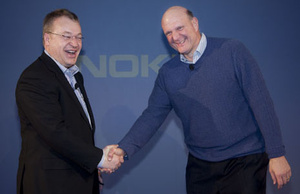 Bloomberg is citing people close to Stephen Elop in reporting that he would make some big chances to Microsoft's traditional business practices as CEO.
The main shift
Bloomberg
's sources say would be to end Microsoft's use of popular applications like Word and Excel to drive demand for Windows operating systems. Elop would rather make these applications available on a broad variety of devices, including those made by rivals like Apple.
He would also reportedly considering selling healthy businesses, like Microsoft's Xbox business, if he didn't feel it was critical to the company's strategy. Microsoft's Bing - an expensive attempt to compete with Google - could also face being scrapped by Elop as CEO.
When he took over at Nokia, Elop made the decision almost immediately to stop development of Symbian, which was at the time the dominant smartphone operating system in the world, albeit in decline. He also cut 40,000 jobs at the Finnish giant to reduce operating expenses.
Bloomberg's sources say Microsoft would face similar re-adjustments, with job cuts and downsizing of teams.
Ford Motor Co
. CEO
Alan Mulally
is also being touted as a potential replacement for Steve Ballmer, who announced his pending retirement earlier this year.