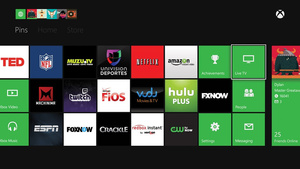 Microsoft has listed digital entertainment apps that will be available for the Xbox One console between launch (November 22) and Spring 2014.
The apps have been listed by country.
"The list is just the first wave of third-party apps that are coming to Xbox One over the course of the next few months,"
Microsoft's Xbox news site reads.
"We will continue to announce more apps coming to the platform and both the Xbox One and Xbox 360 entertainment app portfolios will continue to grow weekly."
Here is the list:
Australia
Crackle
Machinima
MUZU TV
Network Ten's tenplay
Quickflix
SBS On Demand
TED
Twitch
Austria
Eurosport
Machinima
MUZU TV
TED
Twitch
Brazil
Crackle
Muu
Netflix
Saraiva Player
Sky Online
SporTV
TED
Telecine
Twitch
Vivo Play
Canada
CinemaNow
Crackle
Machinima
MUZU TV
Netflix
Rogers Anyplace TV
Sportsnet
TED
The NFL on Xbox One
Twitch
France
6Play
Canal+/CanalSat
France 2,3,4,5
La TV d'Orange
Machinima
MUZU TV
MyTF1
MYTF1VOD
SFR TV
TED
Twitch
Germany
AmazonLOVEFiLM
Eurosport
Machinima
MUZU TV
TED
Twitch
Watchever
Zattoo
Ireland
Eurosport
Machinima
MUZU TV
Netflix
TED
Twitch
Italy
Eurosport
Machinima
MUZU TV
Premium Play
TED
Twitch
Mexico
Clarovideo
Crackle
Machinima
Netflix
TED
Televisa
The NFL on Xbox One
TV Azteca
Twitch
Veo
New Zealand
Machinima
MUZU TV
Quickflix
TED
Twitch
Spain
Eurosport
Gol Televisión
Machinima
MUZU TV
RTVE
TED
Twitch
Wuaki.tv
Zattoo
United Kingdom
4oD
AmazonLOVEFiLM
blinkbox
Crackle
Demand 5
Eurosport
Machinima
MUZU TV
Netflix
NOW TV
TED
Twitch
Wuaki.tv
United States
Amazon Instant Video
Crackle
The CW
ESPN
FOX NOW
FXNOW
HBO GO (coming soon)
Hulu Plus
Machinima
MUZU TV
Netflix
Redbox Instant by Verizon
Target Ticket
TED
The NFL on Xbox One
Twitch
Univision Deportes
Verizon FiOS TV
VUDU