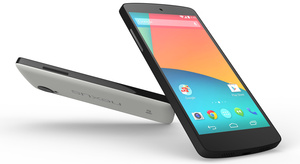 T-Mobile will begin offering the Nexus 5 smartphone to its customers online on November 14, and at its retail outlets from November 20.
The carrier will sell the in-demand Android smartphone for $449.99 - or $41.99 down and 24 equal monthly device payments of $17 with T-Mobile's Simple Choice Plan.

That's for the 16GB Nexus 5, which sells from Google Play for $349, and will work fine on T-Mobile's network. However, ordering the Nexus 5 from Google Play right now guarantees that you'll have to wait weeks to get the device.

Google is apparently selling the Nexus 5 at a loss, which is not something carriers simply cannot do. Sprint also offers the Nexus 5 online and at retail stores for $449.99.

Nexus 5 is co-developed by Google and LG Electronics. The LTE device packs a quad-core Snapdragon 800 SoC at 2.26GHz, with 2GB of RAM. It is available with 16GB or 32GB internal storage, and sports a 5-inch 1080p display and 8-megapixel rear-facing camera.

It is the first device to ship with Android 4.4 KitKat.