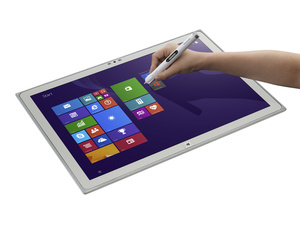 Panasonic
has announced that their 20-inch 4K
resolution
Windows 8 tablet, the Toughpad 4K, will go on sale in January.
The tablet has a 3840 x 2560 LCD display,
and Panasonic says
it's the "world's lightest and thinnest 20-inch tablet," even though the competition in that market is almost non-existent.
Under the hood is a 1.9GHz
Intel
i5, 256GB of SSD and 8GB
RAM
.
In addition, the device has a
USB 3.0
port,
SD
card slot, and built-in smart card reader. Due to the power necessary for the monitor and the powerful specs Panasonic says you will only get two hours of battery life with normal use, making this tablet much less portable than you would hope for.
Aimed at professional designers and photographers, the company is also offering an Electronic Touch Pen that "provides 2,000 levels of pressure by using infrared signals and Bluetooth to read each
pixel
on the display."
The Toughpad 4K will go on sale in January for the handsome price of $5,999.