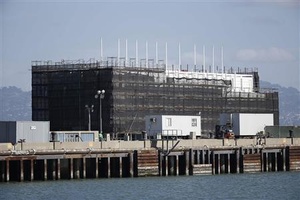 For months now, a mysterious four-story barge has been being built at the port of San Francisco, and more recently it was revealed Google was the owner, although it was unclear what the barge would hold.
It has now been revealed that the barge will be a "technology exhibition space" that will migrate to a few ports in the San Francisco Bay area and other West coast locations for the next two years.
"We believe this curious and visually stunning structure will be a welcome addition to the waterfront; an experience unlike any other that celebrates community, local organizations and the history of San Francisco,"
reads a 36-page document submitted to the port.
Google, as a response, says they are
"exploring using the barge as an interactive space where people can learn about new technology,"
but that the plans could ultimately change.
The barge will have over 13,000 square feet of studio space, and will include catwalks and a rooftop deck,
reads the document
. The space will stay open from 10am to 10pm, and the entire second and third floors will house technology demonstrations.
"The structure will stand out but at the same time will complement its surroundings with decorative sails that provide shade and shelter to the guests,"
the document adds.
"The sails are reminiscent of fish fins which will remind visitors that they are on a seaworthy vessel."