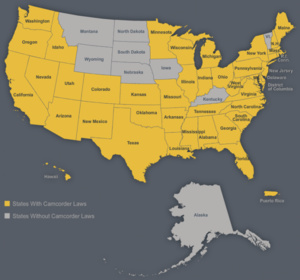 The
MPAA
has released its annual "Best Practices to Prevent Film Theft" for movie theater owners, and as expected the trade group wants theaters to use extreme measures to avoid camera-based piracy.
"The MPAA recommends that theaters adopt a Zero Tolerance policy that prohibits the video or audio recording and the taking of photographs of any portion of a movie,"
the MPAA says in the
report
.
Thankfully, the MPAA has removed a paragraph from last year's edition in which they claimed the industry loses billions every year due to piracy as that figure has been generally debunked.
Now, if a suspect individual is spotted recording, the MPAA says movie theater employees should take immediate action and have the local police notified.
"Theater managers should immediately alert law enforcement authorities whenever they suspect prohibited activity is taking place. Do not assume that a cell phone or digital camera is being used to take still photographs and not a full-length video recording. Let the proper authorities determine what laws may have been violated and what enforcement action should be taken."
Additionally, the MPAA warns about concealed recording equipment and all the possible locations they could be hidden once they get into the theater.
"Movie thieves are very ingenious when it comes to concealing cameras. It may be as simple as placing a coat or hat over the camera, or as innovative as a specially designed concealment device (e.g., a small camera built into eyeglass frames or a camera built into the lid of a beverage container)."
Read through the entire attached
PDF
, it is a fun read.