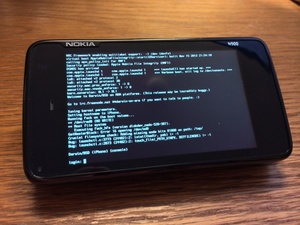 The well-regarded developer Winocm has been quietly working on porting Apple's
iOS
to non-
Apple
hardware, and he appears to have succeeded in achieving the first "core milestone."
Winocm has now managed to port the core elements of iOS, getting them to work on a
Nokia N900
phone.
As of writing there are really no benefits for the average user, but as a basis for future development it could be huge. The hardware was released in 2009 by
Nokia
, running the Maemo 5 OS. Additionally, the port will work on the following hardware:
ARM RealView Emulation Baseboard (ARMPBA8_ALT)
ARM RealView Platform Baseboard for Cortex-A8 (ARMPBA8)
Texas Instruments OMAP3530 (BeagleBoard/BeagleBoard xM) (OMAP3530)
Texas Instruments OMAP3430 (Nokia N900) (OMAP3430_RX51)
Texas Instruments AM335x (BeagleBone/BeagleBone Black) (OMAP335X)
There is no current
GUI
, so using the port means you will have to be very technically savvy and great with code.