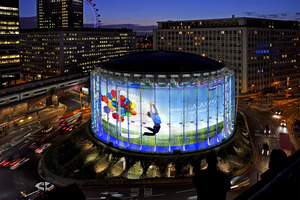 According to
Reuters
,
Samsung
will have spent $14 billion on marketing and advertising in 2013, an enormous figure.
Samsung has an overall market value of $227 billion, below
Apple
at $500 billion but still one of the largest tech companies in the world.
Does Samsung get its money worth, however? Not everyone believes so.
"Samsung's marketing is too much focused on projecting an image they aspire to: being innovative and ahead of the pack,"
says Oh Jung-suk, associate professor at the business school of Seoul National University.
"They are failing to efficiently bridge the gap between the aspiration and how consumers actually respond to the campaign. It's got to be more aligned."
By percent, Samsung spends the largest amount of its annual revenues on advertising, at 5.4 percent. By comparison, Apple spends just 0.6 percent.
"When your brand doesn't have a clear identity, as is the case with Samsung, to keep spending is probably the best strategy,"
adds Moon Ji-hun, head of brand consultant Interbrand's Korean operation.
"But maintaining marketing spend at that level in the longer term wouldn't bring much more benefit. No one can beat Samsung in terms of (ad) presence, and I doubt whether keeping investing at this level is effective."
Samsung seems to believe they are doing the right thing.
"Our product innovation and marketing strategy have made Samsung the world's most preferred smartphone brand,"
J.K. Shin, Samsung's mobile business boss, recently stated.
"Now we'll move from the most preferred brand to become one of the world's leading aspirational brands."