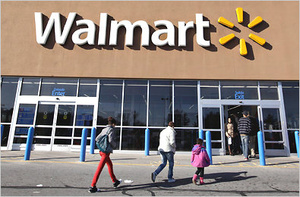 Walmart boastfully reported today that the company had a 'record-breaking' Black Friday, boosted by tech sales.
"We said Black Friday is the Super Bowl of retail, we ran a play that only Walmart could deliver and our customers loved it,"
added
Bill Simon, president and CEO of Walmart U.S.
"Our Black Friday events were bigger, better, faster, cheaper and safer than ever. More customers chose us, we had the prices and products they were looking for, and we're not finished yet. Helping families get ready for a great Christmas – and get a lot of great deals while they're at it – is exactly what we're going to continue to do."
The company says the top sellers were HDTVs, the iPad Mini, notebooks, the new Xbox One and PS4 and
Call of Duty
Ghosts. Online, SLRs and the
Nintendo 3DS
were major sellers, as well.
Altogether, the company sold an incredible 1.4 million tablets.