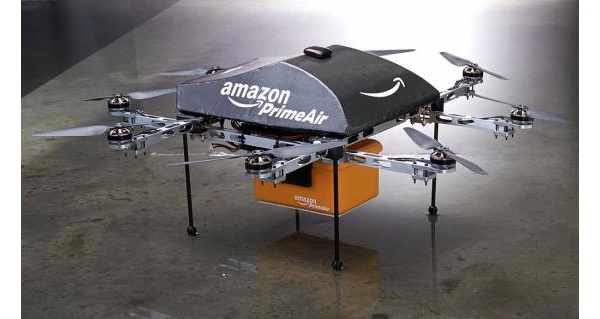 During a '60 Minutes' airing last night on CBS, Amazon CEO Jeff Bezos unveiled his plans for the future of delivery: Amazon Prime Air.
The service will use 8-propeller drones to transport items from Amazon fulfillment centers directly to customer's homes, all in 30 minutes or less.
Bezos did note that the service will require clearance from the Federal Aviation Administration (FAA), and that the group isn't expected to make any drastic decisions until 2015. Bezos did say he expects Prime Air to go live in "four to five years" but the Amazon site itself says the deliveries could go live as soon as the FAA gives clearance.
The "octocopters" are completely unmanned and use internal
GPS
to deliver the items, all of which must be 5 pounds or lighter and smaller than certain undisclosed dimensions.
Of course, there are many issues to deal with before launch, not least of which is safety for pedestrians in the vicinity of a delivery.