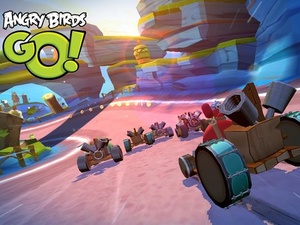 Rovio has officially released their latest blockbuster, the Mario Kart-inspired "Angry Birds Go" racing game.
The game includes the same birds and pigs you have become accustomed to, and allows gamers to race karts down different tracks using power ups and gaining coins to be able to upgrade their kart.
Each level has different game modes, as well, including time trials, boss races, standard races and even a "smash the fruit" level where you must smash enough fruit on the track to unlock coins.
The game is free for
Android
and
iOS
but there are time playing restrictions unless you purchase in-app upgrades for your character's "energy bar."