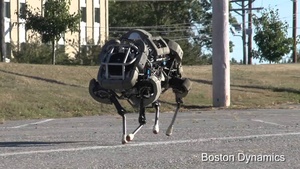 Google has confirmed its acquisition of robotics engineering maker Boston Dynamics, a company that has designed mobile research robots for the Pentagon.
The company builds robots such as the BigDog, which can stay upright, walk with almost perfect balance over uneven terrain and run faster than humans.
While it is unclear what Google's larger picture is, Boston is the eight robotics company to be purchased by the search giant in the last year. The company's robotics division is led by former
Android
boss Andy Rubin. Boston Dynamics has not sold the robots commercially, but has worked with the Pentagon, including building a set of humanoid robots named Atlas. Atlas' goal is to be able to operate in the event of natural disasters or man-made catastrophes like the Fukushima power plant meltdown.
Here are a few videos of the company's products: