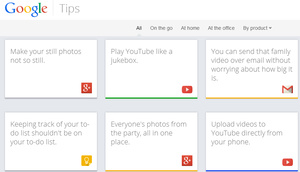 Google has launched a new help site called Google Tips, providing customers with guidelines and tips on how to use their consumer products.
Each card (Google Now users know about these)
describes the product
and you can flip the card to learn more about how it works. You can share the cards with your social networks and via email.
The site has cards for the following thirteen products: Search, Gmail, Chrome,
Android
, YouTube, Maps, Docs, Drive, Play, Calendar, Keep, News, and Google+.
To access any part of the site you must be logged in to Gmail, as expected.