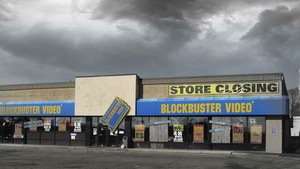 Blockbuster is now officially dead, with all stores closed and all employees laid off.
The 91 remaining Blockbusters open in the UK were unable to avoid the fate of their American counterparts and will close down on December 16th. All remaining 808 employees will also lose their jobs.

"It is with regret that we have to make today's announcement. We appreciate this is a difficult time for all concerned and would like to thank staff for their professionalism and support over the past month," said Thomas and O'Reilly, administrators of the bankrupt business. "Unfortunately, we were unable to secure a buyer for the group as a going concern and as a result had to take the regrettable action to close the remaining stores."

In the U.S., all 300 remaining stores will be closed out by January by its owner, Dish Network. For the UK stores, the company is liquidating and will offer 90 percent discounts on most items still in stock.