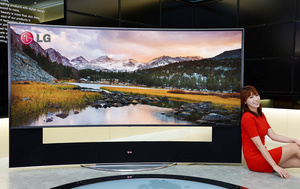 LG
has announced that they will unveil a massive 105-inch curved Ultra
HD
TV at next year's
CES
event.
The TV will easily be the "largest curved TV ever made" as noted by the company, and it will feature a 5120 x 2160
resolution
and a 21:9
aspect
ratio "CinemaScope" screen.
LG says the resolution will allow for reduced letterboxing during movie watching, and will also allow for "additional information without covering up the program itself."
"
With a resolution of 11 million pixels, the 105-inch curved LCD panel is proof of our continued leadership in the next generation display market, offering exceptional world-class value to our customers,"
notes
LG Display's Yong-kee Hwang.