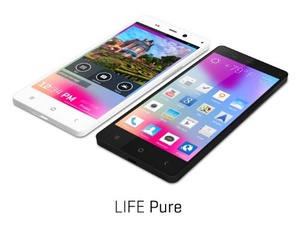 BLU Products, the company aiming to control the extremely low-end market in Latin America and elsewhere, has unveiled its Life Pure smartphone, one with specs that can almost rival today's more expensive and high-end devices.
The Life Pure will sell unlocked for $340 and include a 5-inch
1080p
display, dual 13MP/5MP cameras, 32GB internal storage, be powered by a mid-range 1.5GHz quad-core MediaTek and 2GB
RAM
and will run on
Android
4.2. Unfortunately, there is no
LTE
support for the device but it does support HSPA+.
"The Life Pure as its name suggests is art in its purest form, created from a single piece polycarbonate using the latest CNC technology, then each individually hand crafted, resulting in beautifully designed hardware,"
said Samuel Ohev-Zion, CEO of BLU Products.
"When combined with equally stunning software, the final result is a device that should be appreciated as different and captivating to look at."
BLU was founded in 2009 and most recently sold over 4 million devices in the last year, including one that sells overseas for less than $5 with contract.
Read more
here
.