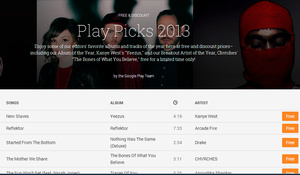 Google has made some notable tracks and albums free through the Google Play Store for its end-of-year Play Picks 2013 promotion.
Kanye West's "Yeezus" and Chvrches' "The Bones of What You Believe" are completely free and 20 tracks including popular hits from MIA, Drake, Arcade Fire and Lana Del Rey are also free.
You can download the tracks using your Google Wallet account, or you can provide a credit card number (even though it won't be charged).
You can check the freebies here:
Play Picks 2013