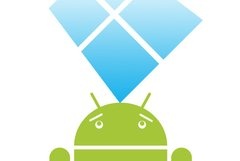 According to Tim Bajarin of
Creative
Strategies, multiple PC makers will stage a "rebellion" against Windows at the upcoming
CES
event, following another year of falling sales of traditional laptops and
desktops
.
Dubbed "PC Plus," the new devices will run both Windows and
Android
simultaneously.
"A PC Plus machine will run Windows 8.1 but will also run Android apps as well,"
Bajarin
wrote
.
"They are doing this through software emulation. I'm not sure what kind of performance you can expect, but this is their way to try and bring more touch-based apps to the Windows ecosystem."
The machines will be able to switch from Windows to Android and back, instantly, most likely with an Android emulator running within its own window allowing for full access to Android apps and games while on your laptop/desktop.
Microsoft
alienated PC makers and infuriated consumers when it released its Windows 8 operating system, which interacted great on touchscreen devices like tablets, but worked poorly on traditional mouse and keyboard machines used by hundreds of millions. Microsoft has also seen a surprising rival start to eat at market share, Google Chromebooks. The small, light, cheap laptops have been top sellers on Amazon and other retailers for months now and are big sellers in the education market. Chromebooks have even forced Microsoft to start an anti-Google marketing campaign.