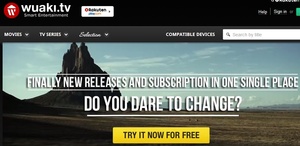 Rakuten's Wuaki.tv on-demand movie and TV
streaming
service has reached one million subscribers, thanks to a surge in UK users since its launch there in September.
The company
says
there are now 125,000 UK-based subscribers. The service is only available in Spain, Andorra and the UK.
What makes the service different from major rivals like Netflix, is that Wuaki offers unlimited streaming from a limited catalog and also the option to buy or rent digital titles a la carte. In other words, the company is a mix of Netflix and
iTunes
.
Rakuten has been adding apps over the past few months, and is now supported on
iOS
,
Android
and the
Xbox 360
in addition to normal desktop use.