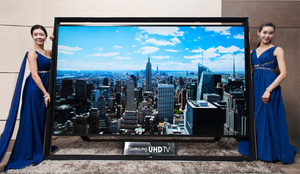 Samsung
has begun offering a new massive 110-inch Ultra
HDTV
in South Korea that will go on sale around the globe soon with a price tag of $150,000.
The TV is the size of a king-sized bed and the Ultra
HD
resolution
has 8 million pixels, four times that of
1080p
displays.
China and the Middle East will get the device in the next 30 days,
say the reports
, followed by other major nations in the "next 9 weeks."
While consumer demand is not expected to be too high, especially given the price tag (not to mention the size) but Samsung is also targeting government agencies and other corporations that need large displays for video conferencing.
Even so, Samsung says it has already received 10 orders for the set in the Middle East.