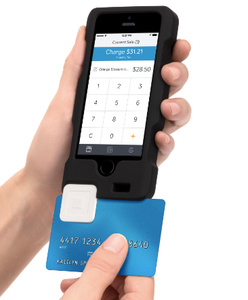 Square and accessory maker
Griffin
have unveiled a new case for iPhone owners that integrates Square's mobile card reader.
The "Merchant" case is a standard protective case that comes with a Square reader that can be tucked away in the case and has space on the bottom to perfectly fit a Square Reader.
Griffin and Square have reasonably priced the case at just $19.99, although shipping is backordered by two weeks.
Additionally, Square
has announce
d "Works with Square," a new program that allows devs and third-party companies to build accessories for Square businesses. Griffin is the first to be part of the initiative.