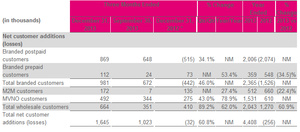 T-Mobile's "Uncarrier" initiative appears to have paid off handsomely in 2013, with the carrier adding 4.4 million customers for the year.
For the most recent quarter, net customer additions totaled 1.645 million, up from 1.023 million in the third quarter of 2013 and a stark difference from the 32,000 subscribers
lost
in the Q4 2012.
Prepaid customers saw growth, as well, up to 112,000 for the quarter, compared to 24,000 in the third quarter.
"Our Un-carrier moves have clearly upended this industry,"
said
John Legere, President and CEO of T-Mobile.
"Over the past 12 months, 4.4 million customers have come to T-Mobile in response to greater flexibility and choice. We have clearly struck a chord with customers and will continue to look for ways to expand on that in 2014."
Perhaps most importantly for the carrier, churn fell to 1.7 percent, down from 2.5 percent the previous quarter as more and more users are staying put.