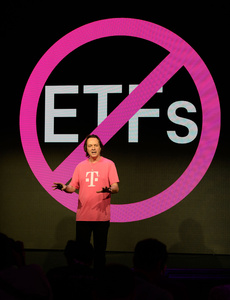 T-Mobile has announced that it will pay your early termination fee if you switch from rivals Sprint, AT&T or Verizon, another huge step in the carrier's efforts to grow their subscriber base.
The company will pay up to $350 per line to cover early termination fees, as long as you port your number, trade in your existing phone and buy a new T-Mobile phone.
Whatever you pay to get out of your contract, T-Mobile will cover, as long as you send proof in via mail or through a
dedicated website
. T-Mobile will also pay up to $300 for your existing phone, which will likely net you money if you have a new iPhone or
Galaxy Note
, for example. Switching to a new T-Mobile phone is also not bad since nearly all the devices are $0 down.
"We're giving families a 'Get Out of Jail Free Card,'"
said
John Legere, president and chief executive officer of T-Mobile.
"Carriers have counted on staggered contract end dates and hefty early termination fees to keep people bound to them forever. But now families can switch to T-Mobile without paying a single red cent to leave them behind."