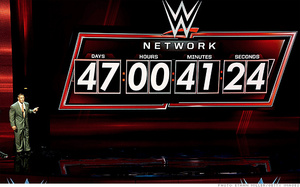 The World Wrestling Entertainment (WWE) has announced a new
streaming
TV app, ushering a new generation for the company that will not tie it to cable networks.
Vince McMahon, Stephanie McMahon, and Paul Levesque (aka Triple H) announced the WWE Network, which will archive all old WWE material and also stream current shows, PPV events and new, original series that will stream exclusively online.
The WWE Network will work on PC and Mac,
Android
,
iOS
, Roku, PlayStation, Xbox and other set-tops, as well. Google Chromecast is not officially on the list just yet, but eventually will be.
For $10 a month, users get access to the network, which will replay all currently aired shows (available on TV on USA, Ion and Syfy) and all 12 PPV events, including WrestleMania, will air live through the app with no added charge. The PPVs will likely be the biggest seller of the service, since the events cost $40 each to order.
WWE is a large enough brand that the move, if successful, could lead to more a la carte offerings. The network
launches on February 24th in the U.S
.