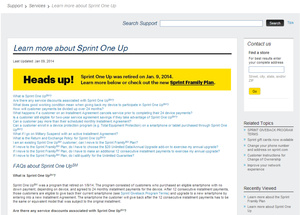 Sprint has retired their One Up annual upgrade program after just four months in existence and the company has unveiled new "Framily" plans that allow up to 10 friends and family members to sign up together as a group and receive discounts.
Each member of the plan gets their own bills, and the discount could be as much as 50 percent off standard individual or family plans. Just like with rival T-Mobile, you will have to buy your smartphone without subsidy, either upfront or through an installment plan.
One example
of the plan is having unlimited text and voice along with 1GB of data for a group of seven people for about $25 per month. An individual would pay $55 for the same service. If anyone leaves the plan, the price goes up for everybody else.
Sprint's One Up service allowed paying customers to upgrade their device every 12 months when financing their phones and returning the old phone at the time. It was generally considered a failure as other carriers offered better deals.