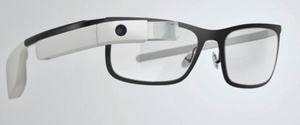 Google has announced new prescription frames and sunglasses shades for their Google Glass eyewear.
The frames and shades are available now if you are a Google Glass early adopter, and will remain available through the general launch of the glasses later this year.
Among the new designs are "bold, curve, thin and split" choices and the sunglasses shades will come in "classic and edge" designs. With the new editions there are now a total of 40 different style combinations, says Google.
"This marks the next phase in the evolution of Glass as we move toward a wider consumer launch later in 2014,"
Google said in its
statement
.
The frames cost $225, the sunglasses are $150, and invited early adopters have to pay $1500 for the glasses. Google partnered with VSP for the frames and Google says those that
"purchase the new frames take their device, the frames and their prescription to one of Google's preferred eye care professionals, who can cut and fit prescription lenses. For now, those professionals are only in New York, San Francisco and Los Angeles.
Google said VSP will reimburse members for their frames and lenses based on their prescription plan."