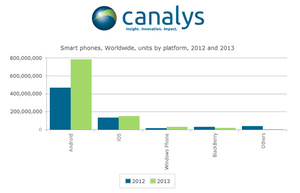 While other firms reported that smartphone shipments broke 1 billion in 2013, Canalys believes the world got very close but did not hit the milestone.
The
research firm says
998 million smartphones were shipped last year, up 44 percent year-over-year.
Android
remained king, being the operating system on 79 percent of the shipped devices, up from 68 percent in 2012. Apple's share fell to 15 percent from 20 percent even though shipments increased to 154 million.
Microsoft
had the strongest growth, with shipments increasing 90 percent to 32.1 million. Windows Phone now has just over 3 percent market share. BlackBerry continued its fall, shipping just 19.8 million units for the year.
Windows Phone is an interesting entrant to the current duopoly that is the smartphone market, but Microsoft/Nokia will still need a lot of work to move the needle.
Samsung
was the top smartphone maker in the world, followed by
Apple
, Huawei and
Lenovo
.