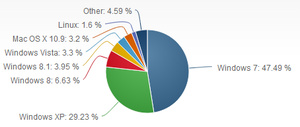 Windows 8.1 continues to gain market share, after three months of full availability on the market.
That being said, Windows 8 in general continues to see slower adoption, at least compared to Windows 7, taking just 10.58 percent share between 8 and 8.1 for January.
Windows 8.1 grew to 3.95 percent, while Windows 8 fell to 6.63 percent, for a total growth of just 0.09 percentage points. Windows 7 dropped 0.03 percentage points to 47.49 percent, remaining the far and away market share leader.
The long-forgotten Windows Vista fell to 3.30 percent on its slow but sure path to zero, allowing Windows 8.1 to leapfrog it. Windows XP somehow gained some share back, up to 29.23 percent.
While still mostly irrelevant, OS X gained slightly to 7.68 percent and
Linux
dropped to 1.60 percent.
Net Applications
uses data
"captured from 160 million unique visitors each month by monitoring some 40,000 websites for its clients."