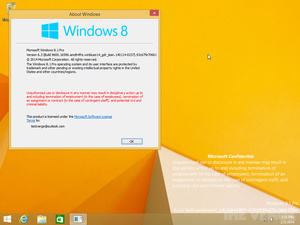 The oft-reported Windows 8.1 Update 1 has leaked this week, now available on all your favorite
P2P
,
warez
and file sharing sites.
Microsoft
is expected to officially release the update in early March.
Update 1 will be a welcome relief for mouse and keyboard users. In Metro apps, Microsoft has added close/minimize options to the top right, and the ability to snap apps using the mouse.
Additionally, when right-clicking
Live Tiles
, there is a new context menu with options for unpinning, resizing and more using a mouse. Shutdown will be easier than the million step process it currently is, with power options for restart, shutdown and sleep now easily accessible.
Finally, Microsoft has also made access to the control panel easier through the PC settings section.
(Pic via
Verge
)