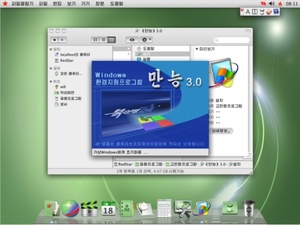 Red Star
Linux
3.0, built by the Korea Computer Center (KCC) software center in Pyongyang, has come with a complete desktop design overhaul, one that has many seeing a possible
copy
of Mac OS X.
Version 2.0 had looked much more like Windows 7, and was released in 2011.
Since most of what occurs in North Korea stays in North Korea, this week is the first time we have seen details of the operating system, which was released in 2013. Will Scott, a computer scientist who taught at Pyongyang University of Science and Technology (PUST)
released the screenshots and other details
. The school is foreign-funded, the first in the country.
Red Star Linux includes a version of Wine, allowing for a virtual environment to use Windows software. The operating system uses a browser based on
Mozilla
called "Naenara," or "My country."