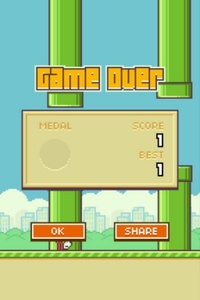 'Flappy Bird' creator Dong Nguyen, the man behind the surprise blockbuster game, has said in an interview with
Forbes
that the game became too addicting and is now 'gone forever.'
Despite making a reported $50,000 per day in ad revenue, Nguyen took the game down this week, removing it from the
iOS
App Store and the Google Play Store.
"Flappy Bird was designed to play in a few minutes when you are relaxed,"
says the developer.
"But it happened to become an addictive product. I think it has become a problem. To solve that problem, it's best to take down Flappy Bird. It's gone forever."
Even though the game has been removed, if you have it installed you can continue to play it. The game is extremely simple in nature, but frustrating. You tap the screen to get your bird through a series of green Mario-esque pipes without hitting anything. Despite how simple it sounds, most players have not broken the 100 point threshold that takes them out of the "noob" standings.
Nguyen also confirmed that his life was no longer peaceful and that
"my life has not been as comfortable as I was before. I couldn't sleep."