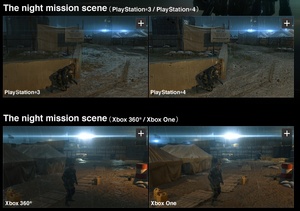 Konami has given eager gamers more details about the upcoming
Metal Gear Solid
5: Ground Zeroes, detailing the
resolution
and graphics for the game on each console.
The game is set for release on March 18th for the PS3, PS4, X360 and Xbox One.
PlayStation 4
gamers will get the most detail, with the game running at 60fps and a
native resolution
of
1080p
. The Xbox One will get the same
fps
but a native
720p
resolution.
If you are running a PlayStation 3 or
Xbox 360
the game will upscale to 720p and run at 30fps.
"Since Metal Gear Solid V: Ground Zeroes is a multi-platform game, we have taken the opportunity to test the differences in how each version of the game looks and plays,"
added the publisher.
Take a look at the different images in the same scenes
here
.