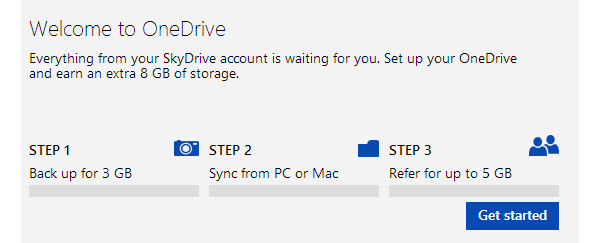 Microsoft, in an effort to bring some recognition to its newly renamed OneDrive (formerly SkyDrive) cloud storage solution, is offering free space to mobile users and other new users.
The company is giving away up to 8GB of extra cloud space if you are using a Windows Phone,
iOS
or
Android
device or if you are a brand new user.
All new users get 3GB to start, but the rest is available if you refer a friend (easy to do) and you get 500MB for each friend you refer (similar to how
Dropbox
works).
In addition, the company has started a promotion where you can possibly win 100GB free for a year:
"To celebrate the official launch of OneDrive, today we will also give 100,000 people 100 GB of free storage for 1 year. That's 10 PB of free storage--enough storage space for a photo of everyone on the planet. If you want to be one of those 100,000, keep an eye on @OneDrive for clues."