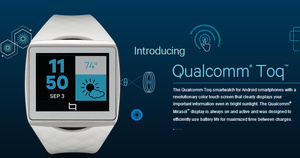 HTC
will launch their oft-rumored smartwatch at this year's
Mobile World Congress
, using Qualcomm's Toq design.
Qualcomm confirmed at last month's
CES
event that the struggling smartphone maker had licensed the Toq hardware and design including the MEMS display (with Mirasol) and all internal components.
In addition, HTC
will reveal
a second smartwatch this month, as well, based on Google's Google Now integrated search service. That device will use a standard AMOLED display. Finally, the company may also launch a touchscreen wristband music player.
Qualcomm, who released the Toq as a standalone with little fanfare as a reference device, has long said it prefers to license and supply the tech for the upcoming wearable revolution, just like it does for smartphones and tablets.