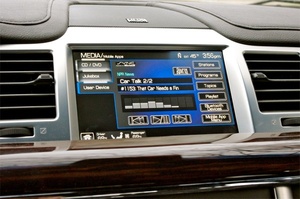 According to
sources
, Ford will replace Windows with BlackBerry's QNX for its upcoming next-gen Sync smart
dashboard
.
By using QNX, the massive car company hopes to remove some of the current system's flaws and improve flexibility and speed. Additionally, QNX will be cheaper to license.

Ford currently has 7 million vehicles on the road using Sync, which allows for easier music playing, phone calls and more due to voice-activation software. Customer complaints have been increasing, however, about the touchscreens and general glitchiness of the technology.

New studies seem to suggest that new car buyers are actively looking for smart, connected dashboards, with 39 percent calling in-vehicle tech the top selling point for them and only 14 percent making power and speed their top choice.

QNX is currently used in Audi and BMW luxury cars and is also used to manage nuclear-power plants. BlackBerry purchased the company in 2010 to have a foundation for its BB10 smartphone operating system.