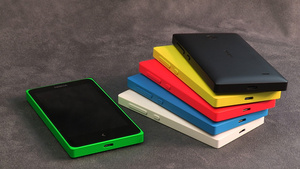 After months and months of rumors and leaked images and speculation,
Nokia
unveiled its
Android
devices early this morning, dubbing the phones the X, X+ and
XL
.
Each of the devices has a Lumia-esque design matched with lower-end specs but more importantly comes with a variant of Android 4.1 (why?) that Nokia believes will be a
gateway
to its high-end
Lumia
Windows Phone devices.
The devices will launch in emerging markets including Asia, Latin America, Eastern Europe (and some select other countries) but will certainly not be headed to the U.S., UK and other developed nations.
With the three phones, Nokia has effectively taken the open-source nature of Android and molded it to look like Windows Phone and included a suite of Nokia and
Microsoft
apps while leaving out Google applications like Gmail, Chrome, and even the Google Play Store. Nokia will use its own app store, for which they take a cut rather than Google. The devices do support sideloading, so getting APKs and installing them on the device to avoid the Nokia Store will not be an issue. Nokia says they hope the phones will be gateways to Lumia Windows Phones and their own growing ecosystem.
The Nokia X, which will sell for just 89 euros, has a 4-inch IPS LCD, 800 x 480
resolution
, 512MB
RAM
, a 1GHz dual-core Snapdragon, 4GB internal storage, a 3MP camera with no autofocus, a
microSD
slot and no
LTE
support. The XL has 768MB RAM, but otherwise keeps everything else the same. The X+ will sell for 99 euros.
Nokia bumped up the specs a bit for the XL, which features a 5-inch IPS LCD, 800 x 480 resolution, 768MB RAM, the same 1GHz dual-core Snapdragon, 4GB internal storage, dual cameras 5MP/2MP with autofocus. The XL sells for 109 euro.
On the software end, despite being Android the phones look nothing like Android. Instead, Nokia has built a poor man's Windows Phone, with tiles rather an app drawer, and the tile sizes can be adjusted for the apps you want to take more screen real estate. Some tiles are "live" like the calendar and weather, but they won't work as well as Android's widgets. Nokia has added its "Fastlane" stream which can be accessed by swiping across the screen. It will show contacts, recent photos, app notifications and more in one place.