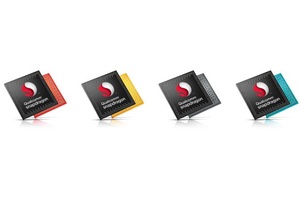 Qualcomm has unveiled their Snapdragon 615 today, the company's first octo-core, 64-bit mobile processor.
The company also showed off the Snapdragon 610, a 64-bit quad-core brother to the 615.
Featuring up to eight 64-bit
ARM
Cortex A53 cores, integrated
LTE
and Adreno 405 GPUs, the chips will be high-end entrants to the 600-series lineup, but will not be able to perform on par with the extremely high-end 800-series lineup.
Marketing VP Tim McDonough almost comically admitted that the decision to move to eight cores was based off Chinese consumer market research that found that smartphone buyers in China just liked more cores, "
whether or not they make a big difference."

"They say the number of CPUs is important to them, which means it's important to our OEMs, which means it's important to us,"
added
McDonough.
The new chips will hit the market in the Q4.