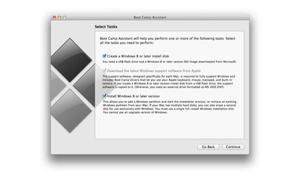 Apple
has dropped Windows 7 support for their Boot Camp multi-boot utility for the redesigned Mac Pro.
The utility allows Mac owners to run legacy Windows applications on their computers, as long as they are Intel-based.
If you try to install Windows 7, the utility will prompt you to install "Windows 8 or later," and Apple has updated their support documentation to reflect as such.
Many professional users have not yet embraced Windows 8, and were likely not preparing to in the near future, either. With the new changes, Mac users will need to either upgrade or begin emulating Windows 7.
The new Mac Pro is built in the U.S. and the base model starts at $2999 and features a 3.7GHz
Intel
Xeon
E5
with 10MB L3 cache and Turbo Boost up to 3.9GHz, 12GB (three 4GB) of 1866MHz DDR3 ECC memory, Dual
AMD
FirePro
D300
GPUs with 2GB of GDDR5 VRAM each. Flash storage shockingly starts at just 256GB, but can be configured up to 1TB. For connectivity there are four
USB 3.0
ports, six Thunderbolt 2 ports, dual
gigabit
ethernet
, and
HDMI
1.4 UltraHD.