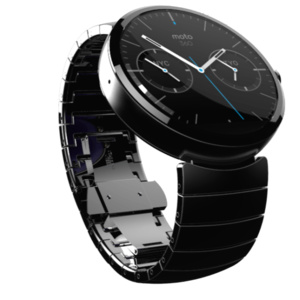 Just hours after Google unveiled the
Android
Wear SDK for smartwatches,
Motorola
has shown off their first wearable to use the Google Now-based software and user interface.
The gorgeous new Moto 360 watch will see release this summer, in a number of styles. The device is the first true smartwatch to use a classic round design rather than the geeky square/rectangle design of current smartwatches.
Reads the company's posts:
The wristwatch has been through several evolutions since it first became a popular fashion accessory more than a 100 years ago. From mechanical to electronic movements, analog to digital faces, the wristwatch has been reinvented several times over, but the basic design has endured for a century because of its elegance and usefulness 'at a glance.' Our vision for Moto 360 was to celebrate that history as we reimagined the wristwatch for the future.

Moto 360 keeps you on time and up to date without taking you out of the moment or distracting you, telling you what you need to know before you know you need it through subtle alerts and notifications. With just a twist of the wrist you can see who's emailing or calling, what time your next meeting is or a friend's latest social post.

Moto 360 also responds to your voice. Just say "Ok Google" to ask questions like who won the Stanford vs. New Mexico game or what time your flight leaves, or to get stuff done like scheduling an appointment, sending a text, setting an alarm or taking a note.
Some early pictures and video here: